WELCOME TO McDONALD AIR & SHEET METAL
We would like to take a moment to introduce you to our company. We are a state certified mechanical contractor (License #CAC1816995 | #CMC1250256) operating throughout Central Florida. We have a full service sheet metal shop, however, our specialty is in the fabrication and installation of any and all types of commercial or industrial air conditioning systems. We have been a proud member of the Sheet Metal and Air Conditioning National Association (SMACNA) since 1994.
Prior to 1994 the current owners, Ralph Carver and Matthew McGaffigan (retired), served in management of McDonald Air Conditioning. The owner and corporate officers of McDonald Air Conditioning began in Orlando in 1958 and all retired in June of 1994 after 36 years in Central Florida.
We presently have three full-time project managers who average over 25 years experience each. We also have five job foremen, five leadmen and average 40 to 60 SMWIA nationally certified or State registered sheet metal workers with an ability to increase these numbers as required with workers carrying these same credentials.
Our facilities house 4,000 sf of office space, clerical, project management and computerized estimation as well as 22,000 sf of manufacturing, including a full coil line, plasma cutting tables, mig and tig welding of black iron, galvanized, aluminum and stainless steel as well as a complete pipe fabrication shop.
We have had a satellite office in the Tampa area since 2003, employing 10 to 12 sheet metal workers.
Many of our clients order custom fabrication of ductwork, flashings, sleeves or saddles for direct pick-up or prompt delivery.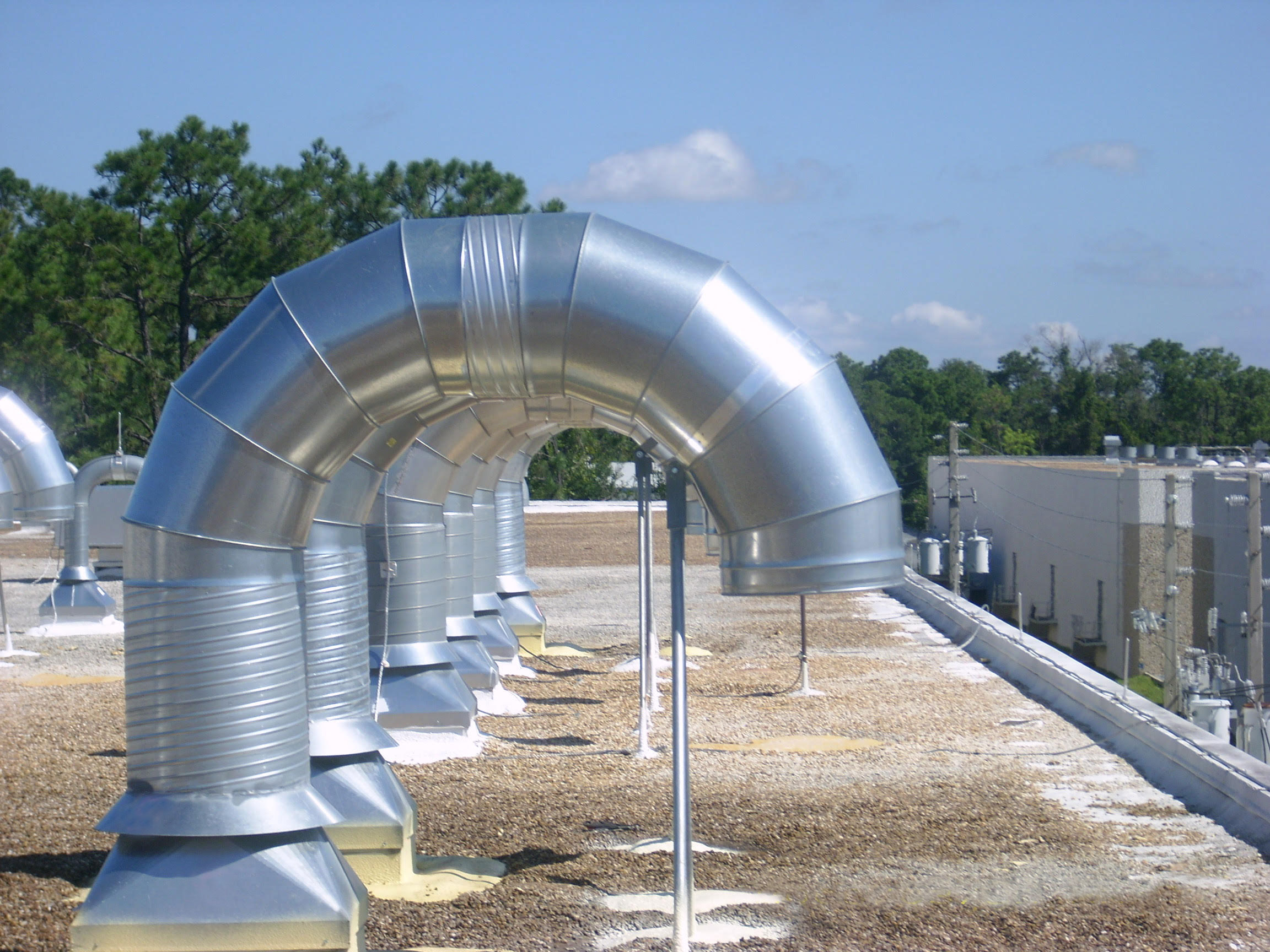 OUR MISSION
At McDonald Air & Sheet Metal, Inc., our goal is simply to be the best in our field, to provide our customers with the very best products and services available, and to do it at a fair price. We strive to provide the kind of teamwork and competitive pricing today's market demands.
We have three basic principles that guide us through each project.
1. EARN THE OPPORTUNITY When bidding projects, we utilize the latest innovations and technical tools available to the industry. Our custom computerized estimating software combines speed and accuracy with continuously updated pricing and availability information to be sure we're offering competitive quotes in a manner that's timely and efficient.
2. COORDINATION, COORDINATION, COORDINATION! Our extensive experience shows us that the ability of the individual trades to mesh into a single team of dedicated professionals is imperative for the successful completion of any given project. It is with this in mind that our team comes together to ensure everything from correct, timely submittals to in-house coordination drawings of the very highest quality. From on-time installation, to clear, honest billing procedures, it's our commitment to "the team" that sets McDonald Air & Sheet Metal, Inc. apart from our competitors.
3. CUSTOMER SERVICE, ABOVE ALL ELSE Customer service, above all else. Here at McDonald Air & Sheet Metal, Inc., we are resolute in our commitment to treating each of our valued customers with the utmost integrity and respect. We've built our reputation on our ability to ensure the total satisfaction of each and every client we're given the privilege of serving. Driven by our absolute belief that, if given the opportunity, we'll earn and keep your business for many years to come, McDonald Air & Sheet Metal, Inc. is the obvious choice for contractors seeking to thrive in today's demanding construction industry.
Some of our clients... to name a few
OUR GALLERY
(Select Image to View)
CAREER OPPORTUNITIES
We enjoy a clean, professional working environment. We pride ourselves in supporting each other with knowledge, growth and experience.
We expect to retain a dedicated work force that's team oriented and committed to providing our clients with the highest level of service in the industry.
You can expect to find yourself in a working environment that's safe and professional. You should anticipate a challenging and rewarding work experience.
CAREER OPPORTUNITIES
Please send us your contact information and a brief description of your related skills and past job experience.

(407) 295-0220 | 2730 Eunice Ave., Orlando, Fl 32808
License #CAC1816995 | #CMC1250256